"Manuhaar" - A Multi Cuisine Veg & Non Veg Restaurant in Jaipur
Exclusive Restaurant "Manuhar" at Laxmi Palace Heritage Boutique Hotel has a delectable range of Indian cuisine on offer. Enjoy the food prepared for you by our traditional cooks and supervised by the experienced chef. Also, enjoy the ambiance of our cozy and private dining room where we have used Jaipur traditional structure such as "Thikri (Glass Cutting) work with Moroccan designed lights which will give you different feel.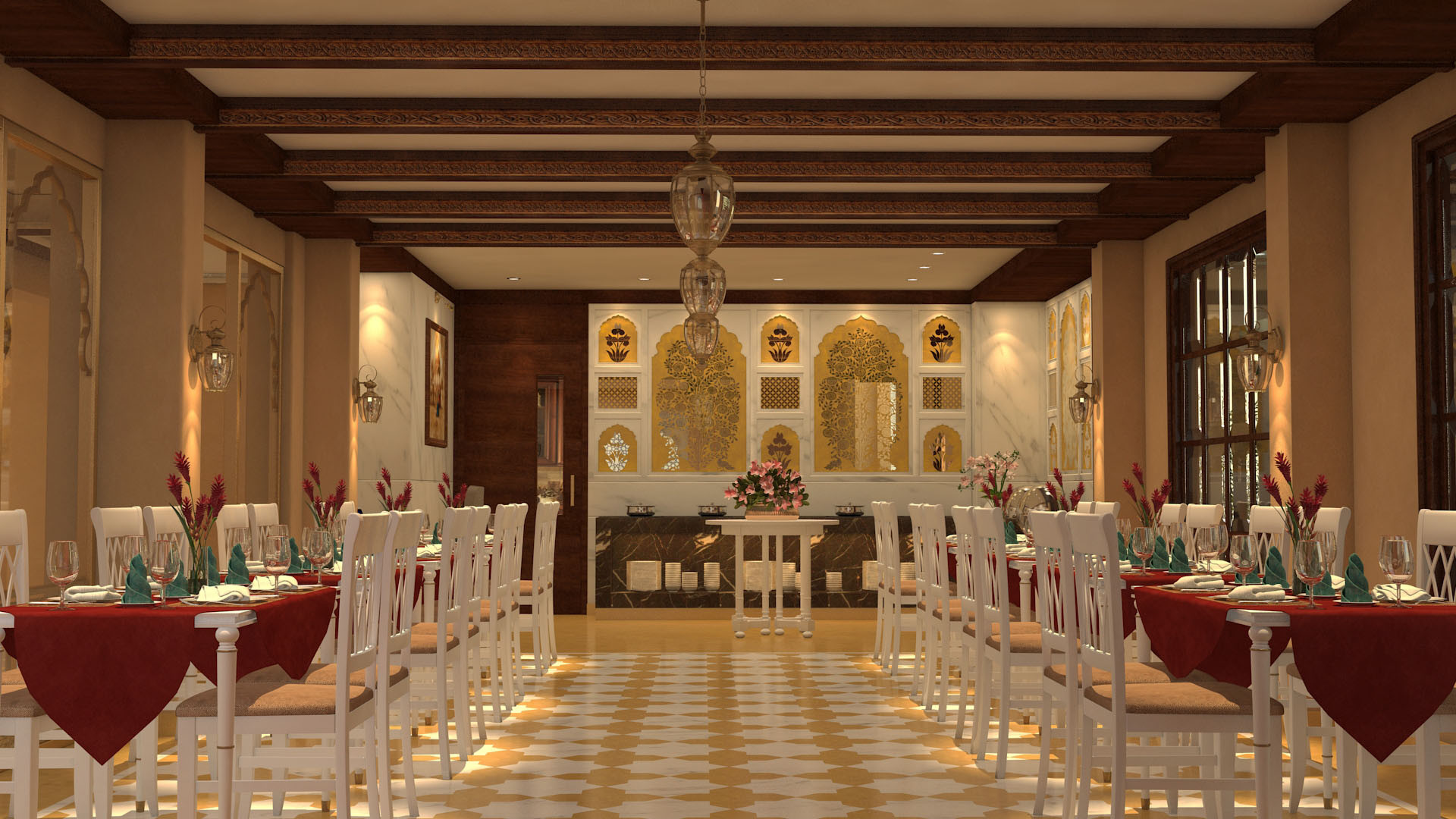 Rajasthani flavours, both Veg & Non-Veg, also Indian, Buffet as well as A-La-Carte, as per your choice. Don't miss to order your special local desserts & choice of ice creams. You can also unwind at the roof top "Tiger View Restaurant
" for a candle light dinner on demand. Every visitor is welcome to banquet with us at our restaurant 'Manuhaar'.
Discover a Culinary Journey Above the Skyline
Experience the enchantment of dining under the stars at Laxmi Palace Heritage Boutique Hotel's rooftop restaurant. Indulge in an unparalleled blend of flavors, mesmerizing vistas, and warm hospitality. Join us for an unforgettable dining experience that will leave you craving for more.
Our rooftop restaurant takes dining to new heights, quite literally. Located on the top floor of the prestigious Laxmi Palace Heritage Boutique Hotel, our venue offers a one-of-a-kind setting for intimate dinners, romantic dates, and special occasions. Immerse yourself in the stunning panoramic views of the city while relishing culinary masterpieces prepared by our talented chefs.
Culinary Delights with a View
Savor a symphony of flavors as our chefs expertly craft each dish using the freshest locally-sourced ingredients. From delectable appetizers to mouthwatering main courses and heavenly desserts, our menu is a testament to our passion for culinary excellence. Indulge in our signature dishes, inspired by both local and international cuisines, complemented by an extensive selection of fine wines and crafted cocktails.
Unforgettable Moments, Elevated
Host your special events at our rooftop restaurant and make memories that will last a lifetime. Whether it's an intimate gathering, a corporate event, or a romantic wedding reception, our dedicated team will work closely with you to curate a bespoke experience tailored to your vision. With our exceptional service, stunning views, and delectable cuisine, your event is guaranteed to be a resounding success.
Book Your Table in the Sky
Secure your place in our rooftop haven by making a reservation today. Simply fill out our online reservation form or contact our friendly staff, and we will ensure your table is set for an unforgettable dining experience. Whether it's a special occasion or a casual night out, we look forward to welcoming you and creating an extraordinary culinary adventure.
For any inquiries, special requests, or to learn more about our rooftop restaurant, please don't hesitate to get in touch. Our attentive team is here to assist you and make your experience with us seamless and exceptional. Reach out to us via phone, email, or by filling out our contact form, and we will respond promptly.
Indulge your senses at our rooftop restaurant, where extraordinary cuisine meets breathtaking views. Come and experience the magic of Laxmi Palace Heritage Boutique Hotel, where every moment is elevated to new heights.